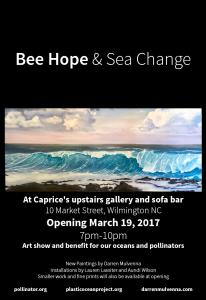 News Release: Fine Art Exhibition Benefits Clean Oceans and Pollinators


Darren Mulvenna, a well-known Wilmington artist and the curator of the Caprice Bistro Gallery (where he also tends bar), will host the opening reception for an exhibition of new paintings called "Bee Hope and Sea Change" on Sunday March 19th from 7-10 PM.

"We live in environmentally challenging times," Mulvenna said. "Luna moths would fly around my house when I was a kid, but they don't show up any more. There's colony collapse disorder decimating our honeybee population. Butterflies like Xerces Blue are now extinct. Monarchs and numerous other species are threatened, so I wanted to find a way to educate the public and try to raise money to help."

Mulvenna will be donating twenty-percent of the proceeds to non-profit organizations, including Pollinator Partnership (www.pollinator.org) and the Plastic Ocean Project (www.plasticoceanproject.org).

"Pollinators, like...